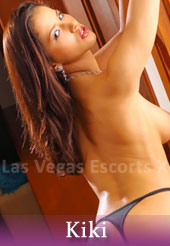 The first thing that you can probably tell about Kiki, is that she has a dark edge about her that no other Las Vegas escort has. Staring into her eyes you can tell that she is getting down to your soul, and deepest, darkest places within. But that's just what she likes, the dark side of her clients. Kiki, with her big brown eyes, her luscious breasts that you'll want to plant your lips directly upon, her long, sleek and sexy legs that you can run your hands up and down all day long, or her perfect, well-toned tight ass which she works on maintaining on a daily basis. She wants you to have a hard time deciding what to look at once you're in person with her. She has the kind of body that gets other escorts in Vegas jealous.
Even though she might seem like a heart breaker, Kiki does enjoy things on the lighter side of the escort experience spectrum such as nice dinner dates and good conversation. It might take some effort but her clients all agree that the best part of any night with Kiki is getting her to smile. This is saying something as she is one of the hottest escorts in Vegas at this moment, her skills as a companion accompanied by her judgment free attitude make her the go to girl for acting out on your whimsical adventures or pushing through an all nighter on the strip.
What are you into? That's what Kiki wants to know. In order to give each of her clients the full Vegas escort service experience she feels it is very important to make sure that each of her clients feel comfortable in ways that they could never feel in front of their boyfriends or girlfriends, husbands or wives, Kiki is extremely adventurous and wants to create a little bubble for you inside of Las Vegas where you can be as adventurous as her. From daytime tours of the city to crazy gambling at the casinos, Kiki finds a way to make it even more fun! It's fitting that her name sounds so much like "kinky" as she is just that, and proud of it.
Kiki is one of those types of girls that you don't see very often working for an escort service, usually a girl with these kinds of looks goes into modeling and becomes very stuck up. While Kiki still does the occasional modeling job on the side, she is confident in her body and just loves being the professional that you hire during your time in Las Vegas. Her looks don't let in on this but she is also extremely down to earth as well. Other Las Vegas escorts are just in it for the money, only wanting to do the bare minimum that leaves both parties feeling unsatisfied and unhappy. Well, Kiki not only believes in the idea that if you're going to do a job you might as well do it right each and every time, but she also genuinely enjoys this work. Going out with new clients every night and being able to engage in activities that will make the boyfriend or girlfriend jealous? Well then count her in.
Contact Me Now! [email protected]